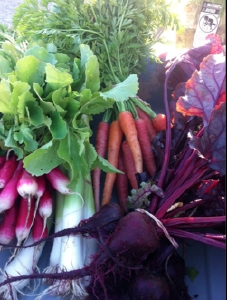 Independence Farmers Market this Friday
The next Southern Inyo Farmers Market will take place on Friday Dec. 6 at the Mairs  Market parking lot in Independence between 4 and 7 pm, on the corner of Edwards St. (Route 395) and Kearsarge.
This week's market will feature kale, chard, lettuce, mustard greens, mesclun, radishes, carrots, beets, chiles, , leeks,  and winter squash.
For more information, call 510-468-7113.
The W inter Farmers Market will take place from 4-6 pm on Friday afternoons.
The Market will rotate between the OVGC Building @ Mairs Market (Edwards St/ Rte. 395@ Kearsarge) in Independenc e and the Metabolic Studio IOU Garden (Main St/Rte. 395 @ Willow) in Lone Pine.
There will be no Market the Friday after Thanksgiving and the Friday between C hristmas and N ew Years.
Special Christmas Artisan Market at the December 13 Market in Lone Pine!
IN D E PE N D E N C E : December 6, 20. January 10, 24. February 7, 21. March 7, 21.
LONE PINE:
December 13. January 3, 17, 31. February 14, 28. March 14, 28.