Intense wind in the Owens Valley Wednesday. Sierrawaves forecast specialist Dennis Mattinson had called for 45 mile per hour winds. Unfortunately, he was right.
The weather was perfect when I drove out to film the Mayor of Los Angeles at the Lower Owens River Project. Just as that event wrapped up at about 1:30, it started to become clear that a story of more pressing concern for locals might be about to unfold. Some sizable dust clouds had blown up over the Inyo Complex burned area around noon, but that was soon dwarfed by the dust cloud that started to grow over the four lane project between Independence and Big Pine.
The wind seemed to be swirling in the Owens Valley. The cloud I shot around 2:00 was blowing from south to north, but by the time I rolled into Bishop, the dust was blowing straight out of the Chalfant and Hammil Valleys to the north.
Into the evening the winds kept up sustained speeds into the 30s with stretches of sustained 40 mph hour winds as well. I spoke to many people who could not remember the sustained winds like this.
Amidst the falling trees, flying shingles, and metal roofing material, kids were walking home from school, bundled up. The soccer game at Bishop High played through the winds. All the while, everyone in town with a chainsaw was busy trying to keep streets open and clearing downed trees from their homes. Yaney was blocked for a time, but cars could drive around the tree down on May Street which appeared to be a lower priority. Utility crews eventually stabilized the badly listing telephone pole that had shut down West Line Street.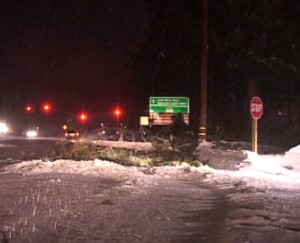 Trying to film the large tubleweeds blowing down Main Street was no easy task as the camera was difficult to keep still, but my worries were tiny compared to the public works crews, the Police, the Inyo Sheriff, the Highway Patrol the Bishop Volunteers, the Forest Service, and of course, the utility crews.