Swall Meadows, CA
Over 100 Eastern Sierra friends and neighbors came together this past Saturday, October 22, 2011 to celebrate the recent permanent preservation of 104 acres of an important wildlife corridor in Swall Meadows.  Mono County Supervisor Hap Hazard, representatives from the California Department of Fish & Game, and the California Deer Association all spoke to the significance of this project to the safe passage of the Round Valley mule deer between their summer and winter ranges.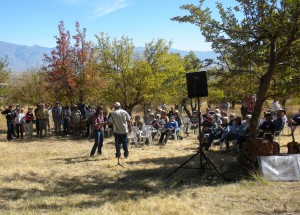 Private landowners Robert and Lee Naylon recently entered into a binding land protection agreement known as a conservation easement with Eastern Sierra Land Trust (ESLT).  The Naylons retain ownership and management responsibilities for their land while designating how the land will be used now and in the future.  "I found this piece of Swall Meadows and it was beautiful," Robert says, "and I bought it." Over time, Robert and his wife Lee began to think about options to keep their property from development. "I have always been interested in land conservation, and it finally came to where we wanted to do something to protect our land."  Today, their land has been preserved with this conservation easement.
This easement helps ensure the open space needed for the Round Valley mule deer herd to migrate.  "Bob and Lee's land is a keystone property in an incredibly beautiful and important area and we are very pleased to partner with visionary landowners like them to ensure these special values continue," stated Karen Ferrell-Ingram, ESLT Executive Director.
The conservation easement on the Naylon ranch preserves critical winter range habitat as well as a portion of the narrow migration corridor for the Round Valley mule deer herd. Critical habitat for the Round Valley mule deer herd is increasingly scarce, and this property is key in keeping the migration corridor open and winter forage available for the deer.
Perfect fall weather welcomed the attendees to the Naylon's property.  Guests were treated to an informative and interactive presentation on apples (Swall Meadows at one time supported over 3000 apple trees), live music by Idle Hands, great food and a history presentation.  The celebration concluded with a walking tour of this stunning property.
ESLT would like to thank its business partners that helped make this event possible: Great Basin Bakery, Bishop and Mammoth Waste Disposal, Josephs Market, Mammoth Brewing Company, Sonoma Wine Company, and Vons.
ESLT works with willing landowners to preserve vital lands in the Eastern Sierra region for their scenic, agricultural, natural, recreational, historical, and watershed values. For more information about this and other conservation easements, visit ESLT's website at www.eslt.org.