– Press release from the City of Bishop:
The City of Bishop would like to congratulate the 2013 Men's league champions West Bishop.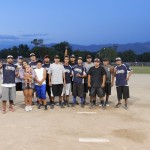 West Bishop had a season record of 9-1, and played three tough games in the playoffs to take the championship. The championship game was on August 7 at 7:00 on field one at the Bishop City Park against Sweetwater; it was a very intense game with a final score of 17-16.
In the photo (L-R) Eric Watterson, Chance Goodman, Earl Lent, Cline Howard Jr, Brad Weaver, Ken Candler, Mitch David, Dean Chavez, Rich Dondero, Daniel Dondero, Doug Watterson III, Jared Hess.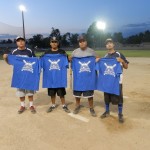 Also, Earl Lent, Mitch David, Rich Dondero and Dean Chavez from West Bishop with their championship shirts.