The raging fires of July scorched 35,000 acres of mountain sides and valleys. That left the land vulnerable to erosion, weeds, debris, and other damage. A special team of experts analyzed the fire aftermath and now has the okay from the regional forester to spend $86,000 to protect the fire-torn acres.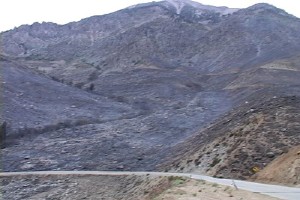 The Burned Area Emergency Response or BAER team combed the fire area – hydrologists, geologists and other experts took a look at the barren ground above Independence and Big Pine.
Teams plan to use fiber rolls in strategic places to divert erosion away from Oak Creek. Crews will also remove woody debris from Baker Creek and remove oak above a culvert to avoid blockages in the Seven Pines area.
Officials say the fire created the potential for erosion and drainage problems. That's not all. The BAER Team feels that Off Highway Vehicles could seriously damage the vulnerable burned areas. They have asked for additional patrols, signage and letters to nearby people.
Bureau of Land Management officials said that they have received funding for emergency stabilization and rehabilitation of public lands burned in the Larson Fire near Coleville. That was in June. They too will use treatments to reduce erosion and water quality problems, plus re-establishment of native plants.
Manager Bill Dunkelberger said BLM has received $84,000 for a number of methods to prevent erosion.