Tim Alpers attended a recent Mono Supervisors meeting to ask the board to sign a letter to the Public Utilities Commission disputing an SCE infrastructure project in the Mono Basin. This story is all about water and the fear of losing it.
The project in question is a return ditch that would take water that has passed through the Lundy Hydroelectric plant and convey it back to the Mill Creek drainage from where it is drawn.
Currently, outflow from the Lundy plant flows into Wilson Creek, where the county owns certain water rights. Although SCEs return ditch would have no effect on those rights, the mere existence of such a conveyance has made some people nervous.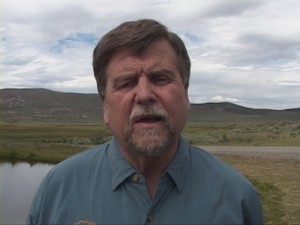 Among those is Tim Alpers, whose Inland Aquaculture Group, known as IAG, has been making investments in a trout farming facility at Conway Ranch, which uses the countys Wilson Creek water rights.
Alpers reminded the Supervisors of the countys vulnerability to a disruption in trout stocking if water is lost, and he stressed the importance of the county to secure a fish rearing facility of its own. IAG currently leases the property and water rights for 10,000 pounds of trout per year. DFGs allotment for Mono County is near 700,000 pounds.
The Federal Energy Regulatory Commission issued a new license to SCE for the Lundy plant in November 2007, wherein Mono Countys downstream water rights were supported. Within the same document, the return ditch was deemed unnecessary.
But, for some reason, SCE has included the project in its rate case cycle, dividing the cost of the project among its customers. Although a negligible portion of any rate increase, Alpers and IAG have taken issue with passing the cost of an unnecessary project onto customers, effectively defending their water in the process.
IAG attorney Katie Bellomo explained to the Supervisors that it was reasonable for them to weigh in on a controversial issue within its boundaries, and to protect their citizens from paying for a project they have not yet permitted.
That opinion was countered by Geoff McQuilkin, Executive Director of the Mono Lake Committee, who warned the Supes of antagonizing the PUC with such a letter when the County has already advocated for its water rights in Wilson Creek, and those rights issues have been adequately addressed.
The Supes voted 3-2 to send the letter opposing the return ditch, with Reid and Hunt opposed.