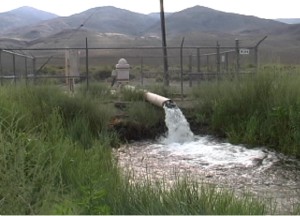 Inyo's Water Director analyzed DWP's pumping plans for the Owens Valley this year and found that those plans will lower groundwater tables, likely fail to obey the Water Agreement, and will fall short of the Drought Recovery Policy. Inyo's Water Department wants DWP to pump 17,240 acre feet less than LA's plan.
In a response letter to DWP's Clarence Martin, Inyo Water Director Bob Harrington writes that "It is unclear that the proposed level of groundwater pumping will maintain the environmental goals of the Agreement." Harrington reviews each wellfield and notes when DWP's pumping plans will take down the groundwater level.
In the case of Big Pine, pumps would lower the water nearly 2 feet. In Laws, Harrington said if DWP keeps up the current level of pumping with no water in the McNally Canals, vegetation declines will violate the Water Agreement. In the Aberdeen area, DWP pumps would lower the water table by 1 foot more. In nearby Thibault-Sawmill, water tables have not recovered to the mid-80s level as DWP agreed. Harrington recommends DWP and Fish and Game work together in the Big Pine and Black Rock areas to use less water in the hatcheries.
In the Symmes-Shepherd area south of Independence, Harrington says DWP pumps would lower the groundwater from 1 to 4.4 feet. Water tables there have never recovered from past pumping. He also recommends pumps in Lone Pine remain at past levels.
Bottom line – Water Director Harrington recommends less pumping and adherence to the Drought Recovery Policy which the Inyo-LA Standing Committee never rescinded. DWP unilaterally quit obeying that policy of restricted pumping.
Harrington wrote to Clarence Martin that the Interim Management Plan, to be used while Inyo and DWP revise pumping regulations, is the "most viable way for staff to continue progressing toward mutually agreeable revisions to the Green Book (on groundwater pumping)." Harrington also pointed out that DWP exceeded its own pumping limit in the past two years, which should not happen.
Both sides will meet May 10th.