Mammoth's Water District and Town government will sit down to talk issues Wednesday morning at 8:30. It's a Liaison Committee meeting.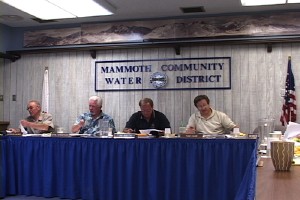 The Water Board wants to talk about future water supply issues as they relate to density bonuses granted to new construction projects. Is there enough water as density grows?
Even though building has slowed down, that issue still sits on the table.
Officials also oplan to talk about town buildings codes and can they incorporate waterwise conservation standards in landscape design and construction.
An energy issue on the agenda – with an update on the potential Geothermal District Heating Pilot Project in partnership with Iceland America Energy and High Sierra Energy Foundation.
The Water District's own recycled water project, also up for discussion. That project will provide reclaimed water for Mammoth's golf courses, which use a sizeable amount of water every year.
This Liaison Committee meeting – Wednesday, 8:30am at the Water District Conference room.