Concerns over second homeowners changing voter registration in the Mono Supervisors election triggered a criminal investigation in Mono County. Now similar concerns with opposition to the Mammoth School District bond measure have come to light.
It appears that a recently circulated e-mail message asked second homeowners, who may reside outside the area, to register to vote in Mono County in order to shoot down the Mammoth School bond measure on the November ballot.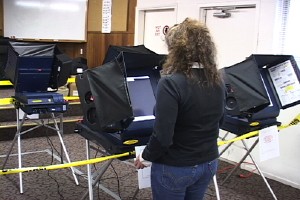 At last word, no charges have been filed against any voters in the Mono Supervisor case, but County Clerk/Recorder Lynda Roberts did send out letters that explain voter registration laws to those who may have listed an address besides their primary residence in order to vote in Mono County.
18 letters were sent out to possibly errant voters in the supervisor case. Roberts reports that she also sent 14 letters to people that may have changed their voter registration in response to the e-mail in opposition to the school bond.
The letters from the Clerk explain what qualifies as an official primary residence or domicile, for the purpose of voting. Those whose voter registration papers list their true primary home are asked to ignore the letter. If the listed address is not a persons current domicile, the letter asks the reader to re-register in the county of primary residence. The letter also states that intentional misstatement on registration papers is a felony.
Roberts says that the letters are not accusing people of anything. While the letter has teeth, the point is to educate the people who may have been misled, she explained.
Others dont see it that way. June Lake resident Al Heinrich sees the letters as intimidation of voters. He took the issue to the Mono Supervisors this week. Reporter Tony Dublino explained that the board recommended that Heinrich submit the allegation to the Grand Jury.
Roberts reports that an investigator from the Secretary of States office has already seen her letter to the possibly questionable voters and determined that there was no intimidation.
So far, no voters have had their registration cancelled.