A sign of the economic times. Tenants in the Village at Mammoth consider moving, and some already have, to avoid expensive space with annual rate hikes.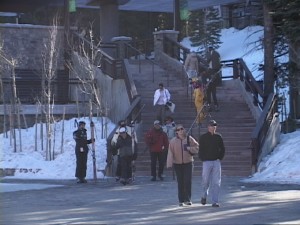 We have placed a call to Michael VanderHerst at the Village, and in the meantime have talked to some tenants. Rusty Gregory, MMSA CEO, confirmed that the Mountain will move its four shops at the Village into space owned by Mammoth Mountain.
Gregory said it was the Mountain's intention to help the Village get up and going. He said it's been "quite difficult. Rents," said Gregory, "are quite high." He said he believes a number of other tenants are moving out. For many, it's now the end of 5 year leases and time to make decisions. Gregory said the Mountain is "still very committed to the Village." He said the center still struggles with a lack of parking and other issues.
Others have said that rents are $4 per square foot, plus 4% annual increases, plus common area, plus an association fee which is 3/4% of gross. Some local businessmen have said that a liveable rent for Mammoth is closer to $3.00 per square foot, which includes common area and all fees.
It is known that Munchkins has decided to move. Other lease deals are pending.
In the wake of talk about businesses baling out of the Village, some business owners believe an economic adjustment period will make things tough for the resort as visitors adjust to gas prices and higher prices of many other things.