After many years of studies and debates, the Forest Service announced today that officials have approved the Mammoth Mountain Ski Area Ski Back Trail with a finding of No Significant Impact.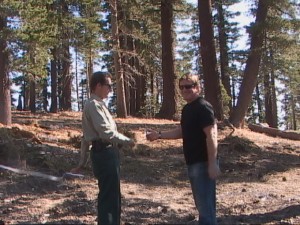 The decision allows for construction of a Ski Back Trail from near the top terminal of Chair 7 to The Village.
The Forest Service said that compared to the original alignment of the Ski Back Trail proposed by MMSA in 1997, Ranger Jon Regelbrugge's decision authorizes construction of a Ski Back Trail that will require less cut and fill, less tree removal and will minimize impacts to existing mountain bike trails. The Ski Back Trail will meander through the Forest, and as a result will have less of an impact on forest environment, according to the Forest Service.
Several mitigation measures are required. Like no snowmaking between 8pm and 7am and all snowmaking equipment shall be placed a minimum of 300 feet from the nearest residential unit. The Forest Service also required phased construction for minimal disturbance at any one time.
Construction of the Ski Back Trail is expected to start in the winter/spring of this year.