Like most of the country, unemployment is up in the Eastern Sierra.
According to the state Employment Development Department the unemployment rate for Inyo County was 7.3% for the month of October. Mono County checked in with an 8% rate of unemployment for October.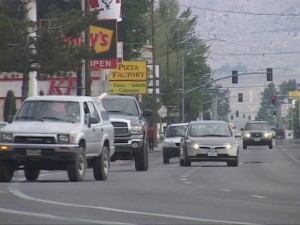 Both counties are running below the state average of 8.2% but far higher then the national average of 6.5% for October.
Since 2000, annual unemployment in Mono and Inyo counties has been steady at roughly 5%, according to state statistics. The annual rate for 2008 is not yet in, but Inyo started the year with 6.3% unemployment, and has now jumped a percentage point to 7.3%. Mono County started the year with a lower 4.4% unemployment rate that now checks in at 8% for October. Since 2000, the October unemployment rate in Mono County has ranged from 4.8% to 5.6%.
Sierra Employment Services handles payroll and workers compensation for employers, and also offers temporary employment services. Monica Allen with Sierra Employment Services reports that right now there are more folks looking and not enough jobs.
Much of what Allen sees right now is construction related. With big commercial projects like the proposed Ritz-Carlton project in Mammoth on hold for the foreseeable future, Allen reports that construction workers who could turn down jobs in past years are now hurting.
As small businesses tighten their belts, other employers are cutting back and doing the work themselves, Allen reports.
This century has seen relatively stable unemployment figures for the Eastern Sierra. The previous decade was marked by recession in the early 90s. In 1991, annual Mono County unemployment checked in at 12.1%. Inyo reported a 9.8% unemployment rate that year, before jumping to over 11% for the next two years.
Between 1994 and 1997, Mono County unemployment ran above 10% before starting to drop in 1998. Inyo and Mono Counties have both fluctuated near 5% since 2000. Where the annual rate for 2008 ends up is yet to be seen, but so far the rate is on the rise.