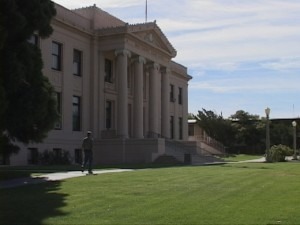 In Inyo County Superior Court one jury trial is now underway and another earlier trial has been continued.
Currently, Stephen D. Krufal of Bishop faces a charge of felony arson of an inhabited structure.  The jury was selected and testimony is underway.  According to the Sheriff's Department, it is alleged that Krufal started a fire at a neighbor's home in the Highlands Mobile Home Park in Bishop.
Officers said the incident occurred on September 6 of 2010.  The Bishop Volunteer Fire Department and Inyo County Sheriff's Office were dispatched to Highlands for a possible arson.  Mr. Krufal was arrested at the scene.
Meanwhile, another jury trial had begun at the end of February but was postponed, according to Superior Court, because of the medical condition of Assistant District Attorney Joel Samuels, who is handling the case.
This trial is expected to resume on May 14th.  The trial involves two defendants.  According to the Court, George William Chezum faces three misdemeanor charges – sexual battery, annoying a child and contributing to the delinquency a minor.  Ronald Everett Barr faces six counts – two felony charges of oral copulation and misdemeanor charges of annoying a child, contributing to the delinquency of a minor and sexual battery.