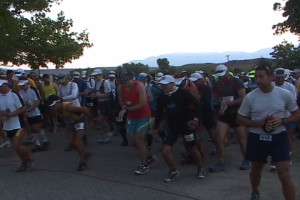 More that 220 runners attempted the challenging course at the 19th Annual Bishop High Sierra Ultra Marathon on Saturday, May 19th.
Over four distances of 100 kilometers, 50 miles, 50 kilometers and 20 miles the field of runners was fairly evenly divided and good weather and excellent race management resulted two record breaking race times.
Sada Crawford came in under 12 hours in the 100 kilometer race clocking 11 hours 41 minutes and 58 seconds, cutting a staggering 45 minutes off the previous women's record.
The 20 mile fun run women's record fell to Julie Bryan, the overall winner of this distance, who clocked 2 hours 48 minutes and 25 seconds.
The entire event ended before midnight, well within the course cut off time of 1am, with the last runners coming in after being out on the course for 17 hours and 43 minutes.
The races are structured so that athletes can change race distances at certain points during the race in order to complete a full race distance. Of the 220 athletes, 95% finished the course with only 13 withdrawals.
Race Director, Marie Boyd, said the event this year was one of the smoothest and best executed to date with very few problems occurring. There were no major injuries and no lost runners and she thanked all the volunteers who helped to make the event a success this year.
The Bishop High Sierra Ultra Marathon is a major fundraiser for the Northern Inyo Hospital Foundation and has raised over $100,000 to date. Proceeds from this race are helping to build theHealingGardenin the new hospital complex which is expected to be completed in June of this year.
Race Winners:
100km men's race winner: Jason Wara, time 10:48:37
100km women's race winner: Sada Crawford, time 11:41:58
50 mile men's race winner: Paul Sweeny, time 8:34:28
50 mile women's race winner: Molly Zurn, time 9:42:19
50km men's race winner: Shad Mickelberry, time 4:49:11
50km women's race winner: Meredith Edwards, time 5:31:23
20 mile men's race winner: Piotr Kaszkur, time 2:56:39
20 mile women's race winner: Julie Bryan, time 2:48:25
Full race results are available at www.BHS50.com.