The Town of Mammoth Lakes' Mobility Commission held a special meeting on Feb. 10 to gather public comment on the Meridian Boulevard Project and the Main Street Traffic Signals/North Frontage Road Project. The plans for these two projects have been in the works for years, and the latest drawings were updates from the 2002 versions of the projects.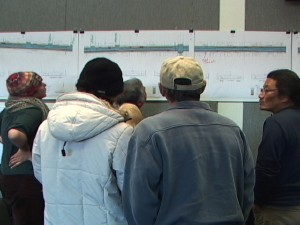 The Meridian Boulevard Project proposes to turn the road into primarily two travel lanes, a center turn lane, and two bike lanes from Majestic Pines Dr. to Joaquin Rd., and primarily four travel lanes and two bikes lanes east to Sierra Park Road. The design would include a roundabout at Majestic Pines Dr., and a second roundabout at Minaret Rd. Sidewalks would be constructed on the north and south sides of Meridian, and the existing traffic light at Minaret would be relocated to Sierra Park Rd. Infrastructure improvements such as curbs, gutters and storm drains would also be part of this plan.
The Main Street Project would construct two traffic signals: one at the intersection of Main Street and Mountain Blvd. and a second most likely at the USPS driveway. The project would also reconstruct Frontage Road, north of Main Street between the Post Office driveway and Forest Trail. The reconstructed road would consist of two travel lanes and two bike lanes. A sidewalk would be built between Frontage Road and Main Street, and infrastructure improvements would be done.
Some of the public's biggest concerns included whether or not the Town would have the means to clear the sidewalks in the winter. Some residents on Meridian also questioned the logic of keeping a four-lane road from Joaquin east to Sierra Park Rd.
Councilwoman Jo Bacon, speaking as the President of Winterset Condominiums, explained that turning left on Meridian on a busy day can be disastrous and suggested that the two travel lanes with a center turn lane should be continued down the entire road.
Another looming void with these projects will be just how they will be funded. Mammoth Lakes Trails and Public Access Executive Director John Wentworth pointed out that the projects are slated to be funded in part by Developer Impact Fees or DIF, however with only a small amount of building going on in the Mammoth, the DIF is not flowing into Town as strongly as expected. Other parts of the projects are expected to be funded by State and Federal grants, but as Mobility Commission Vice Chair Eric Wasserman pointed out, both the State and Federal economies are suffering right now.
The projects will be discussed again at the Commission's regularly scheduled meeting on Feb. 17 at 4 p.m. in Suite Z.