Listeners/ readers, concerned for our local CHP officers, asked us to check out reports of two CHP deaths. Tragically, two officers were killed in different locations on highways outside our area.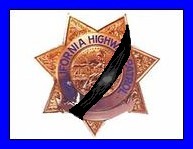 At about four in the morning Sunday, CHP Officer Justin McGrory and another officer pulled over on a traffic stop on I-15 in the Apple Valley area. A motorist veered onto the right shoulder and clipped the right rear of the patrol car and then hit Officer McGrory. He was flown to St. Mary's Hospital in Apple Valley where he died from his injuries. He was 28 and left behind a wife and three children – 7, 4 and one-year-old.
The driver of the offending car was arrested for vehicular manslaughter on scene. That was on Sunday.
The same day about six in the evening, CHP Officer Brett Oswald of Atascadero pulled his patrol car behind an abandoned car on River Rd. in the San Luis Obispo area. He waited for a tow truck. A driver, a 22-year-old woman, crossed the double yellow lines and hit Officer Oswald and his parked patrol car. Officer Oswald was thrown onto the hood of the woman's vehicle and carried north. Both parties were hospitalized. Officer Oswald died two hours later.
A terribly tragic Sunday for the California Highway Patrol.