Press release
"Inaugural Mammoth Lakes Turkey Trot"
If you think the only race that happens on Thanksgiving Day is seeing who gets a second helping of pumpkin pie first, guess again.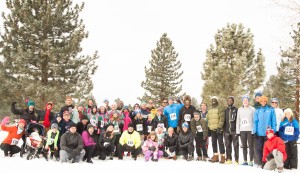 Before lifting a fork, watching football, and taking a post-turkey snooze, hundreds of thousands of Americans started their holiday by giving thanks — with a turkey trot.
And what a great Inaugural Mammoth Lakes Thanksgiving Day turkey trot it was!  With a warm sun and temperatures hovering in the single digits as the race began people of all ages and abilities gathered at Mammoth Creek Park West to celebrate the "day of thanks."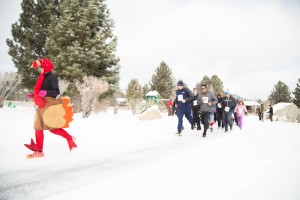 This inaugural turkey trot is one of the country's most scenic trots right in the heart of the Mammoth Lakes, California with runners that "run the race before you stuff your face."   This 1.6 mile event benefited the Mammoth Lakes Track Club with 47 "fun runners" including two dogs and a baby carriage starting in the race that morning so they can feel guilt-free about gobbling down later on!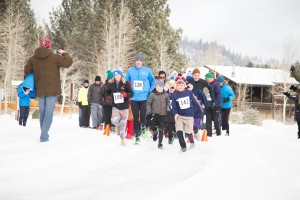 The turkey trot team of competitors were courageous and enthusiastic as Mammoth Track Club Head Coach Andrew Kastor sounded the "cow bell" marking the start of the trot heading east on the town path towards Snowcreek Athletic Club before circling back for a cup of hot cocoa and camaraderie.
Our team of "trotters" celebrated their morning together.
Male Trotters
Female Trotters
0-10 Years Young
 
0-10 Years Young
 
Trey Anderson
16:01
Piper Kastor
22:09
Perry Cooper
17:51
Peyton Rutherford
24.30
11-19 Years Young
 
11-19 Years Young
 
Wesley Wilo
13:22
Bryn Urdi
18:26
Nick Panico
15:34
Madeleine Morrison
19:48
Conner Burrows
24:30
Regan Ritchie
20:15
Kyle Rutherford
24:31
Ryan Ritchie
26:25
20-29 Years Young
 
20-29 Years Young
 
Nathan Mendelsohn
18:40
Mary Boccia
17:11
Eddie Villapando
19:37
Lesley Anne Hoxie
18:06
Kenden Blake
19:38
Kristen Boccia
20:17
30-39 Years Young
 
30-39 Years Young
 
Jedrek Mularski
13:02
Jenny Senior
15:05
Andrew Kastor
14:00
Rachel Ritchie
15:28
Aaron Nedwick
19:40
Lindsay Barksdale
17:10
Jeannie Rutherford
24:31
40-49 Years Young
 
40-49 Years Young
 
Kris Anderson
16:04
Stacy Corless
16:40
John Urdi
22:23
Shawn Ritchie
20:16
Mark Rutherford
24:30
Deena Kastor
22:11
Craig Burrows
24:30
Heidi Perry
22:24
Jennifer Burrows
24:30
Mary Harrison
26:25
50-59 Years Young
 
50-59 Years Young
 
Dan Holler
25:40
Claudia Holler
25:41
60+ Years Young
 
60+ Years Young
 
Rick Wood
14:00
Rich Boccia
15:50
Michael Morrison
19:48
We would like to thank all of the co-sponsors that made this Inaugural Mammoth Lakes Thanksgiving Day Turkey Trot including the Town of Mammoth Lakes, the Mammoth Lakes Police Department, Mammoth Lakes Recreation, Mammoth Lakes Tourism, The Community Emergency Response Team, Footloose and the Mammoth Track Club.