At Fish and Game headquarters in Sacramento, hurried meetings and near panic over environmental issuses. Department of Fish and Game officials say that California will have trout stocking but not everywhere. The bottom line issue do planted trout eat the same insects required by birds and other species?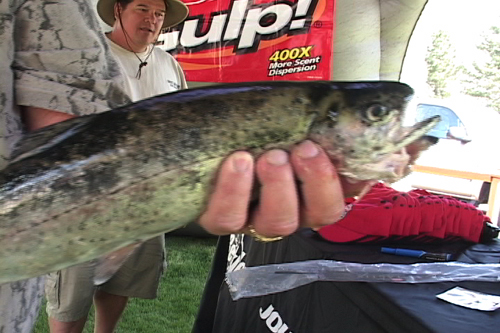 With the start of trout season just a month away, this kind of news did not rest well with the Eastern Sierra. In fact, the news started to trickle out as individuals requested trout stocking permits. Tim Alpers, founder of the famous Alpers trout, said that it was his understanding that there was a restriction on trout stocking and on stocking permits for people like him.
No one from Fish and Game had returned Alpers' phone calls. Thursday we spoke with Fish and Game information man, Harry Morse in Sacramento. He said that he and Curtis Milliron were working on a news release on trout stocking. He would say only that "there will be trout stocking."
He declined to say anything about Eastern Sierra waters. Morse did say that according to environmental documents prepared in response to a lawsuit, Fish and Game must assess how trout stocking affects birds and insects on a water by water basis. Specifically, they must evaluate habitat for the Willow Flycatcher. A lawsuit filed by the Center for Biological Diversity demanded an EIR on trout planting and now demands evaluation of how planted trout may eat the same insects needed by birds.
Morse said that some waters have been or are being planted now. He painted a picture of pressured meetings and evaluations of waters. Morse said deputy directors in Fish and Game are meeting on this now.
Brian Balarsky of Convict Lake told us that he had requested a stocking permit for Alpers trout. Fish and Game said they will have to visit Convict to make sure it's clear in regard to Willow Flycatcher habitat. Balarsky said Fish and Game plans to visit 30 lakes in Inyo-Mono to make this evaluation.
Dan Lyster, Mono County Economic Development Director, said some waters have been okayed but not all of them. He will try to hire help to assist Fish and Game as they review Mono water ways for clearance to be planted. Lyster underscored that there are still fish in the waters. Plants were done last fall and fish remain. So, there will be fish one way or the other. Lyster said he is waiting for more information from Fish and Game and will post it on www.monocounty.org.
We have contacted several other Fish and Game spokesmen who have not returned our phone calls. We do expect to hear something from the Sacramento office soon.
As of late last night, the following are waters released for trout plants by Fish and Game:
Region 6 – Inland Deserts Region Imperial Sunbeam Lake
Imperial Weist Lake
Inyo Bishop Creek Middle Fork
Inyo Bishop Creek South Fork
Inyo Bishop Creek, Intake II
Inyo Cottonwood Creek
Inyo Diaz Lake
Inyo Georges Creek
Inyo Goodale Creek
Inyo Independence Creek
Inyo Lone Pine Creek
Inyo Pleasant Valley Reservoir
Inyo Sheperds Creek
Inyo Symmes Creek
Inyo Taboose Creek
Inyo Tuttle Creek
Mono Bridgeport Reservoir
Mono Buckeye Creek
Mono Convict Creek
Mono Crowley Lake
Mono Deadman Creek
Mono Glass Creek
Mono Grant Lake
Mono Green Creek
Mono Junction Reservoir
Mono Lee Vining Creek
Mono Lee Vining Creek South Fork
Mono Little Walker River
Mono Lost Cannon Creek
Mono Lundy Lake
Mono Mammoth Creek
Mono McGee Creek
Mono Mill Creek
Mono Owens River, Section 3
Mono Robinson Creek
Mono Rock Creek, Section 1
Mono Rock Creek, Section 2
Mono Rush Creek
Mono Saddlebag Creek
Mono Sherwin Creek
Mono Swauger Creek
Mono Topaz Lake
Mono Virginia Creek
Mono West Walker River, Section 2
Mono West Walker River, Section 3
Riverside Cahuilla Park Lake
Riverside Diamond Valley Reservoir
Riverside Lake Elsinore