Public transportation has suddenly taken on greater meaning. As more people say they can't afford $5 per gallon gasoline, they have started to look at our local bus system as a real alternative.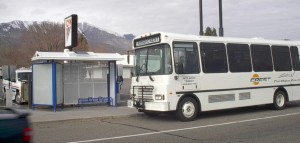 With that in mind, the Inyo County Local Transportation Commission has scheduled two public workshops to hear from the people on transit and on a bikeways plan.
Officials will give a presentation on the planning process for both a Regional Transportation Plan and a Collaborative Bikeways Plan. The public can ask questions and give input on the existing and proposed transportation systems and bicycling facilities in Inyo County.
The goal of the Regional Transportation Plan is to identify the transportation needs of Inyo County – a system for people and for goods. Lately, transit has been much in the news with the Eastern Sierra Transit Authority's budget shortfall and discussion about possible service cuts. The ESTA Board will meet Friday to decide on Dial A Ride cuts for Bishop and Walker.
And, if you can take a bike to work or elsewhere, the Bikeways Plan will interest you. The idea is to promote bicycle travel for work, shopping, schools, residential and recreation areas.
The workshops happen Wednesday at 9am at Statham Hall in Lone Pine and 7pm at Bishop City Council Chambers.