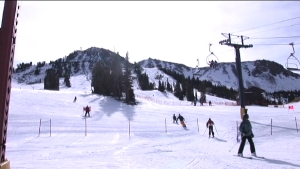 The anxious consideration of the word "drought" trumps most all other news stories in the Eastern Sierra. It will catch all of the attention when the Mammoth Mountain/ Town of Mammoth Liaison Committee meets Monday.
In a ski town, no one much wants to talk about the obvious, but has to eventually. The impact of low snow is an item down the line on the agenda for today's meeting. CEO Rusty Gregory commented to us that it is "always difficult to operate a ski resort with significantly less than normal snowfall. Despite having much more terrain open than any other resort in California," said Gregory, "visits and revenue are trending 25% below expectations to date this season."
An agenda for the Ski Area Town Liaison Committee meeting says CEO Rusty Gregory and CAO Ron Cohen would represent Mammoth Mountain and for the Town – Mayor Rick Wood, Council member Jo Bacon and Interim Town Manager Dan Holler.
First on the agenda – nuts and bolts type issues like the Town Zoning Code update followed by an update on Developer Impact Fees. The Town Council had talked about revisiting the fees for public discussion. The Council has supported a reduction of those fees since recession stymied building.
Town officials also planned to talk about the latest in staffing of Town government and an update on air service.
Mammoth Mountain officials planned to report on the status of the land exchange involving acres at Main Lodge and then the impacts of low snow, followed by a report on June Mountain Ski Area operations. The lack of snow at a resort with no snow-making ability really hurts.
The Liaison Committee meeting was scheduled from 2:30pm to 4:30pm in the Mammoth Mountain Ski Area Conference Room Monday.