Do you care about the looks and feel of the Old Mammoth Road area? Town officials say they will listen at a second neighborhood meeting, Wednesday at 6pm in Suite Z. Saturday offers another chance to be heard over General Plan matters.
The extensive Clearwater project prompted the close look at the northern area of Old Mammoth Rd. The Town has put together a District Plan for the public to examine.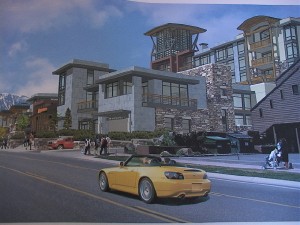 At Wednesday's meeting, officials will hand out reports on previous workshops and outlines of goals for the area. The Old Mammoth plan will analyze the Clearwater project, which includes condos and commercial area.
Some residents in the area have said they feel the project is too dominant and makes too many changes. Others say it fits.
And, here's another meeting for those who want a say in how the Town unfolds.
It's this Saturday, and it's called the 2007 General Plan Implementation Caf. The Town has started to organize what amount to informal get-togethers with citizens. They call them cafes. The idea is to generate talk and interest in developments in Town. Topics of discussion for Saturday's Caf include arts, culture, natural history, mobility, parks, open space and more.
It happens 9am to 1pm at the Mammoth College Center on Saturday with a reception afterwards at the ski museum. You need to call Town Clerk Anita Hatter to confirm your participation. 934-8989, extension 227.