Town Council candidate Kirk Stapp made a splash when he came out at the head of the appeal of the major development in town, Old Mammoth Place. Now, he has decided to write the argument against Measure U, the Utility Users Tax.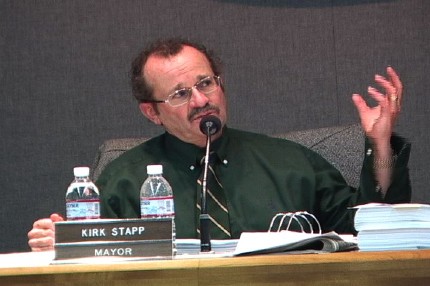 Stapp said he opposes this tax because it has no sunset clause and no specific projects listed for the money raised. Stapp said the language of the measure says the tax will pay for "planning, construction, operation and maintenance" of mobility, recreation and arts and culture.
Stapp called Measure U a "wide open initiative. This is not the way you do things," he said. Stapp said that the tax money could conceivably pay for a maintenance worker. He said, "This measure will extend the utility tax forever with incredibly broad language."
Stapp said the Town Council lost credibility with him, so he's writing the ballot argument against Measure U. Stapp said he previously spent 22 years on the Town Council and supported all economic ballots. He said this is the first time he will oppose one. "It's so poorly written," he said. "I can't do it."
The Town Council had voted to place the Utility Users Tax on the ballot when faced with the sunset or end to the current Utility Users Tax in June of 2011. Officials say that the Town needs the revenue from this tax to provide important amenities to citizens and visitors.