In the Eastern Sierra, two shopping areas have suffered this year – the Village at Mammoth and Cottonwood Plaza in Bishop.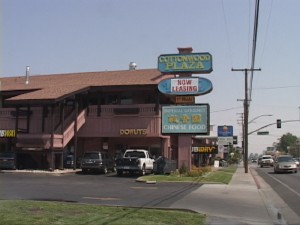 Some tenants in the Village left or moved to different spaces – all to save money. Then there was the parking problem, with surface parking closed. Talks have gone on between tenants and Village ownership. Mammoth Mountain has been involved, too.
The Mountain did re-open the parking lot and talks reportedly continue.
Meanwhile, grim news in Bishop for the Cottonwood Plaza. All tenants have been ordered out by the end of December. Reports say that a chain link fence will go up around the center after that. Some 9 lawsuits are pending, including one between the land owner and the master lessee, Chuck Caldwell. Beyond that, there is a sub-lessee and tenants.
Off the record comments range from the potential demolition of the center to refurbishing it.
Recent freezing temperatures with a lack of tenants and heat led to frozen pipes and reports of flooding in the remaining stores.
What about the City of Bishop? Administrator Rick Pucci said the City hates to see the demise of the center, but has no authority in the situation. Pucci said he believes the vacant center will be an eyesore and require much more law enforcement.