– Town of Mammoth Lakes press release
The entire community is cordially invited to attend the Official Town of Mammoth Lakes Tree Lighting Ceremony and to donate generously at the community-wide food and clothing drive on Friday, December 5, 2014 in the Footloose Sports and old Bank of America parking lot, as well as the toy drive taking place at the Mammoth Fun Shop.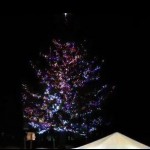 Community Food, Toy and Clothing Drive
New this year, the Town in partnership with Footloose Sports, Mammoth Fun Shop, the Mammoth Lakes Chamber of Commerce, Inyo Mono Advocates for Community Action, Inc. (IMACA), the Angel Giving Tree, the Salvation Army, and the Mammoth Lakes Fire Protection District are honored to introduce a community-wide food, toy and clothing drive. Between noon and 6:00 p.m., drop-off your unexpired food items, or well-loved clothing at the old Bank of America building located on the corner of Main Street (SR 203) and Laurel Mountain Road. Toy donors are requested to drop off new unwrapped toys at Mammoth Fun Shop located opposite the old Bank of America building. Town staff along with representatives from our local non-profits will be on-hand to collect and store your items – you don't even have to leave your car!
Suggested unexpired food items for donation include:
Meals in a can (stew, chili, soup)

Tuna and canned meat

Peanut butter (please avoid donating items packaged in glass)

Low-sugar cereals

Canned fruit packed in juice

Canned vegetables (low salt)
Need toys? Mammoth Fun Shop is offering a 30% discount on any item being purchased for and subsequently left in the donation box for the Angel Giving Tree program at the store. They will also honor 10% off anything else purchased in the same transaction. Mammoth Fun Shop will be open until 8:00 p.m. on the night of the Tree Lighting Ceremony.
We encourage the community to give what they can to those less fortunate during this festive season. Thank you in advance of your generosity.
Official Tree Lighting Ceremony
Beginning at 5:30 p.m., stay warm around the many fire pits and enjoy holiday music, hot beverages and warm snacks available for sale by local non-profit organizations. Mayor Jo Bacon will welcome in the festive season at approximately 6:00 p.m., and Santa will be arriving from the North Pole to light-up our Christmas tree and meet all our good boys and girls, compliments of the Mammoth Lakes Fire Protection District. Woolly is also rumored to be making an appearance and the MHS Boosters Club will be selling Christmas trees, so donate to a worthy cause and go home ready to decorate your own special tree.
Local Beneficiaries
Inyo Mono Advocates for Community Action, Inc. (IMACA) is a private non-profit corporation. IMACA was created to work with and serve low-income residents of Inyo, Mono, and Alpine Counties in California. It is the mission of IMACA to empower low-income people, to advocate for their needs, and to find and maintain a healthy lifestyle by breaking the cycle of poverty.
The Angel Giving Tree takes referrals from the schools and social services of income eligible children to help them have a brighter Christmas. The tree is located in Vons but not all children's tags are taken; you can bring an individual toy or clothing and drop it off for children up to 15 to help us cover these children.
The Salvation Army, an international movement, is an evangelical part of the universal Christian Church. Its mission is to preach the gospel of Jesus Christ and to meet human needs in His name without discrimination. The Salvation Army's traditional red kettle is an integral part of the Christmas scene, with millions of dollars donated each year to aid needy families, seniors, and the homeless. Many families receive aid over a period of months after the Christmas season, as well as people struggling with difficult family, emotional, or employment problems.
Please contact Recreation Supervisor Stephanie Daniel at (760) 934-8989 ext. 237 to volunteer or for additional information about this fun, family and festive event.