A bittersweet graduation for the students at Eastern Sierra Academy in Bridgeport. The Eastern Sierra School Board had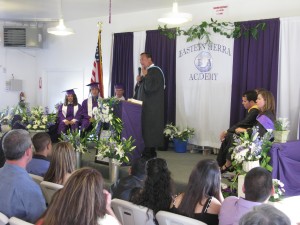 earlier voted to cut teaching positions that would cause closure of the small, select school. Even as the end unfolded, Newsweek Magazine named the Academy one of the top high schools in the nation.
Principal Roger Yost spoke philosophically about excellence, education and the future. Four students waited to graduate last Wednesday. About 200 sat in the audience. Parents described the evening as upbeat and positive, tinged with sadness since all knew this would be the last graduation.
When the Eastern Sierra Unified School District Board discovered a nearly $2 million shortfall this spring, they chose to pink slip some dozen teachers and others. The teachers and principals from Eastern Sierra Academy will transfer to Lee Vining and the small, special school will close.
Monday, Newsweek Magazine issued its list of the best high schools in the country, based on how hard school staffs work to challenge students with advanced placement college-level courses and tests. Around 1600 schools made the list. Number 30 is Eastern Sierra Academy. It's curricula to challenge students has ended with the teacher lay-offs.
Eastern Sierra board members did reinstate several teachers recently which will allow High Desert Academy in Benton to remain open.