The biggest mood lifter of November? An early opening of Ski Season. It happened Monday.
Even the Wooly Mammoth could barely contain himself – dancing about with the skiers and boarders, waiting to hop on the gondola and get up to the top of Broadway.
Cleland Hoff was on hand for the happy morning. She caught up with Ski Area Vice President Pam Murphy, who said, We think its Mammoth and its awesome!
Mammoth Mountain was the first resort to open for business in California. Joani Lynch, Mammoth Mountain Communications Director, said, "We're thrilled to be opening early. It's what Mammoth does. Lots of other resorts wouldn't go the extra mile to do what we're doing, so folks can go out and have fun."
The lower part of the mountain has received 6 ro 12 inches of snow while more snow dropped mid-mountain and above. Snow showers are expected through Tuesday morning and snowmaking machines are also working around the clock.
Lynch said that Mammoth officials will assess the situation after the storm moves out.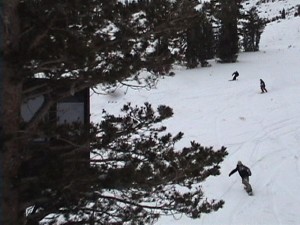 Additional chairs, most likely Stump Alley Express and Face Lift Express may open later in the week.