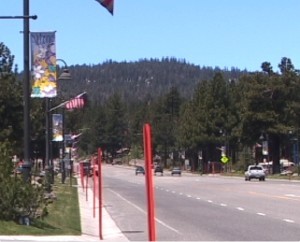 The new Mammoth Lakes Tourism Business Improvement District assessments were due on the 20th of the month, and as of Monday, the Town Finance Department reported collections of $46,168.15.  Town Finance Manager, Cyndi Myrold said, "We are estimating $100K in TBID for September and we believe we are on track.  The process is going smoothly and we expect it to be even better once we get the online portal up and running for the next cycle."
The assessment was approved by a majority of local businesses, but the Town Finance Department collects the money and hands it over to Mammoth Lakes Tourism. The assessment is supposed to raise $4.7 million per year to fund marketing and air service subsidies. Lodging pays 1% of gross revenue, retail and restaurants pay 1.5%, and Mammoth Mountain pays 2% of lift ticket and ski school sales.
Retail and restaurants with a lower gross can pay a yearly fee, but appeals are required. Tourism Director John Urdi had said that there have been two dozen appeals or so. He said most were approved, but businesses need to offer some kind of proof of gross income or evidence that they are not mostly tourist-related. In the case of Vons grocery store, Urdi said locals need to know food purchases are not charged the assessment.
Cyndi Myrold, Town of Mammoth Finance Manager, said the Town is still experiencing some technical difficulties with the online processing of the TBID payments. She said businesses had to mail in their returns this month. Myrold said the Town is "very hopeful that the online processing will be up and running for next month's remittance." Postmarks are accepted as timely payments. Myrold said her office is getting a lot of questions, but she said for the most part people have been very positive.
Meanwhile, Tourism Director Urdi said consultants are working on marketing plans for next summer when the TBID money will start to be spent, with some expenditures on digital advertising this winter. He said research is going on now with emphasis on "everything outside our door – climbing, trails to wilderness, skiing, boarding. We will put together material so everyone understands who and what we are."