Several weeks back, Inyo Supervisor Susan Cash told DWP Chief David Freeman that Inyo business owners need to own the buildings they lease from DWP. Cash pressed Freeman to do something about it. Meetings have happened.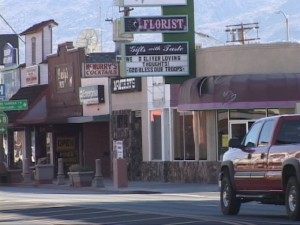 Supervisor Cash said that DWP has selected properties that meet the criteria for divestment and has sent letters out. Cash said she and others want this program to be voluntary so lessees could opt in or out.
Cash said she believes DWP head of water operations, Marty Adams, met with Inyo CAO Kevin Carunchio and possibly others. For many years, DWP has leased business houses on the main streets of all of our towns. The Department has also torn down many stores.
Another recent complaint from business owners – DWP's failure to transfer leases in a timely manner during the sale of a business. At least one local merchant reported the loss of a sale due to DWP's failure to transfer the lease in a year's time.
More meetings are expected to take place over business building divestment. Supervisor Cash points to an unfortunate factor of the times – very tight money and credit for those who may want to buy their buildings.
In past years, business owners who rent from DWP had also reported political pressure applied to them in relation to their leases. Many hope to get out from under the colonial foot of Los Angeles as a result of recent meetings and Supervisor Cash's initiative to deal with a main street issue.