Employees of Taco Bell in Bishop arrived at work Tuesday morning to find an unexpected mess. At about 5:30 am, police responded to reports of a burglary at the Taco Bell. Sometime during the night someone smashed the glass on the east side of the building. What they were after isnt known. Police say that while there is evidence that the building was entered, the safe was intact and nothing was stolen.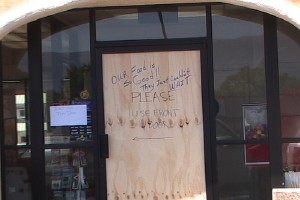 A sheet of plywood now covers the broken glass door on the drive through side of the building, where a sign advises customers to enter through a functioning door and has a little fun with the comment, the food is so good, they couldnt wait.
Whether the chalupas were indeed the motivation for this crime is far from certain. Police report that investigations continue.