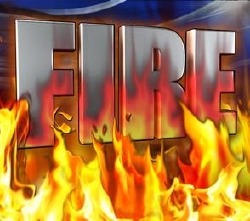 For Big Pine and Lone Pine, it was a week-end of suspicious fires.
Saturday, according to Big Pine Fire Chief John Marzano, fire broke out in brush near the old silo east of Highway 395. Crews had just got that fire knocked down when a report of another fire came in.
Chief Marzano said that the second fire started behind the Antique Store on Main St. Unofficial reports had said that the Sheriff's Office made an arrest related to the two fires. Chief Marzano said he understood that deputies did take two suspects in for questioning but later learned they were not involved. That investigation continues.
So does the cause of a fire that broke out Sunday in heavy brush behind the Trinity Church in Lone Pine. With the severely dry brush this summer, numerous fire crews rushed to the scene.
Sunday afternoon, the Inyo Sheriff's Office reported that it appeared the fire, which was burning in heavy brush, was not immediately threatening any structures. Lone Pine Fire Chief LeRoy Kritz said Sunday evening that the fire was totally out. It burned about half an acre in brush behind the church. Chief Kritz said fire crews from Lone Pine Fire, Independence Fire, Olancha Fire and CalFire were on scene along with officers from the Sheriff's Department and California Highway Patrol.
Chief Kritz did not immediately know how the fire started, but it is suspicious in origin.