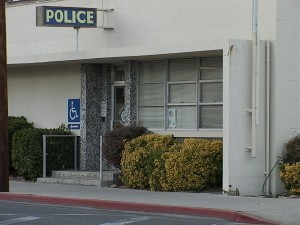 On Tuesday December 17, 2013 at 3:47 am, the Bishop Police Department was called to the area of Sycamore Street for a reported
stolen vehicle. The vehicle was parked in front of the residence during the night and the owners woke up and noticed the vehicle was
missing from the residence. The Bishop Police Department looked around the surrounding area of Sycamore and did not locate the
vehicle anywhere. A stolen vehicle report was taken and information regarding the description of the vehicle was passed on to local
agencies.
At around 11:31 am, the Bishop Police Department was notified y the Inyo County Sheriff's Department of a vehicle matching the
description of the stolen vehicle located at Brockman Lane and Highway 395. The Tribal Police and the California Highway Patrol
also responded to assist with the vehicle recovery. The vehicle was confirmed to be the stolen vehicle from Sycamore Street. The
Bishop Police Department conducted a vehicle inventory and located evidence inside the vehicle leading to a possible suspect.
The suspect, Christopher Michael Huse, was located at his residence. He was taken into custody without incident and
then later transported to the Inyo County Jail for stolen vehicle. He is awaiting arraignment and being held on $10,000.00 bail.
The stolen vehicle was returned back to the owner without any damage. The Bishop Police Department would like to thank the
California Highway Patrol, Inyo County Sheriff Department, and the Tribal Police for their assistance in the recovery of the vehicle
and the apprehension of the suspect. – K. Coffman, Public Information Officer