A recent court order opened the door for Governor Arnold Schwarzeneggers plans to send state employees home without pay two days a month. With these unpaid furloughs, state offices in the Eastern Sierra are expected to be closed this Friday.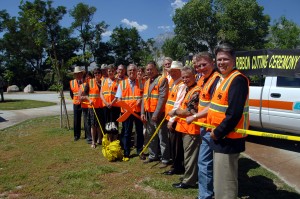 In an effort to cut state employee salaries by 10%, the Governor had ordered state employees to take an unpaid furlough on the first and third Fridays of each month, but State employee unions fought this plan in court on the grounds that the move cut pay without proper negotiations.
Last week a judge ruled that the governor does have the authority to move ahead with this plan. Furloughs are scheduled to start Friday.
The Department of Motor Vehicles in Bishop is slated to be shut down this Friday, according to the DMV website.
Cal Fish and Game employees are scheduled to take the unpaid leave as well. DFG spokesman Harry Morse explained that furloughs are scheduled to start this Friday. To avoid free poaching day, Morse says that the Governor did make exceptions for public safety and enforcement.
With fish that need to be fed daily, Morse says that the state hatcheries will be kept to minimal staff on for these scheduled furloughs.
Cal Fire is expected to take a hit as well. Caltrans District 9 Director Tom Hallenbeck reports that District 9 will close all buildings, maintenance stations and services the first and third Fridays of each month starting Friday. Employees who have to work Fridays will have to take other days off so if it snows Friday as expected, plows should still be able to run. Hallenbeck explained that Caltrans will continue to respond to emergencies and safety related issues that may occur on those days.
A different contract allows state law enforcement to stay on the road this Friday. Local Highway Patrol Officers say that the furlough order will not affect the CHP.
Barring a budget break through in Sacramento, expect to see closed doors on state offices this Friday.