Election Day poses an interesting challenge. A kind of confrontation between Freedom of Speech and Freedom of privacy to cast a vote.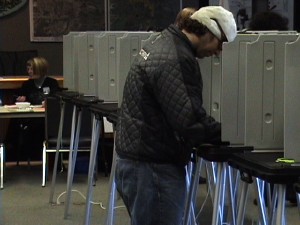 Seems this time around, several people and groups had expressed a desire to videotape their vote. The project, Video the Vote planned to interview famous people about their votes. Another project, New York Times' Polling Place Photo Project, asked for voters to submit photos of their experience at the polls.
State Elections Code forbids what is called "electioneering" within 100 feet of the polls. The law says no one can try to dissuade another person from voting or try to influence a voter near or at the polls.
So, local Inyo and Mono poll workers were ready to say no videotaping. In fact, initially, poll workers did stop our Cleland Hoff from videotaping Mammoth voters. Mono County Clerk Linda Roberts did assist us in getting video of voting at Suite Z in Mammoth.
Since our news coverage was not designed to interfere with or even document specific ballots, we were permitted to videotape, as we have for many years, to bring news to the public.
The law clearly shows that a citizen's vote is a sacred act, protected by law. It is flatly illegal to intimidate or dissuade a voter.
So, today, our local voters turned out in force to cast ballots on the Presidential race, other national and state representatives and on local candidates and measures.
At stake locally – a judgeship in Inyo, District 3 Supervisor in Mono. School Board seats in Bishop, Lone Pine and Mammoth. Plus, Lone Pine hospital board. Two school bond measures appeared on ballots in Mammoth and Bishop.
We will provide election results tonight on TV33, KSRW FM and on our website, www.sierrawave.net. Tom Woods will work tonight to bring you updated results and the final word on local elections.