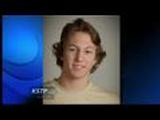 Local residents have shared with Sierra Wave the tragic news that the teenaged son of former Bishop residents has died following an accident.
According to news reports from Woodbury, Minnesota, Bill Hyland, formerly of Bishop, said that his 17-year-old son, Braedon Hyland, died last Thursday night, days after he was hurt in a car crash. Local sources tell us that Bill Hyland helped start the Sierra Roller Hockey League many years ago in Bishop. Braedon's mother is Zoe Hernandez-Hyland, BUHS Class of 1982. Her parents are Max and Joyce Hernandez, who, as many know, owned The Outdoorsman ski shop then later the motel by the same name for a number of years.
Mr. Hyland is quoted in Minnesota media as saying that his son was a "gifted athlete who had many friends" and that his son's passion was hockey.
Reports said that Braedon was a passenger in a car driven by his best friend.  The car collided with a truck.  This accident remains under investigation by the Washington County Sheriff's Office.  A family memorial service is also pending.  Sierra Wave's condolences go out to family and friends.