(Press Release)
On Sunday, March 16, 2014, at approximately 11:50 A.M., Mono County Sheriff Ralph Obenberger came upon a solo motorcycle collision on State Route 182, approximately eight miles north of Bridgeport.  Sheriff Obenberger contacted the Mono County Sheriff's Dispatch Center who dispatched Mono County Sheriff's personnel, Bridgeport Fire Department, Mono County Paramedics and notified the California Highway Patrol's (CHP) Bishop Communications Center (BICC).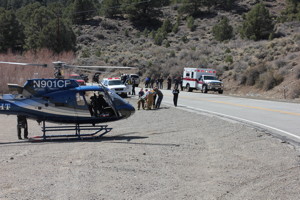 A CHP sergeant and lieutenant responded from the CHP Bridgeport office and a CHP officer responded from the Walker area.  The first arriving CHP employee, an Emergency Medical Technician, provided oxygen and emergency care to the victim while requesting a Care Flight helicopter from Reno be dispatched to the scene.  Personnel from the Bridgeport Fire Department arrived on the scene, continued care and prepared the victim for helicopter transportation.  Care Flight helicopter # 3 arrived on scene at 1:01 P.M.  SR-182 was closed for 15 minutes while the victim was placed in the helicopter. She was flown to Renown Medical Center in Reno with major injuries.
The preliminary investigation indicated the rider, Susan Boos, 50 of Stateline, Nevada, was operating a black Harley Davidson Dyna Superglide traveling southbound on SR-182, among a large group of motorcyclists.  For unknown reasons, Ms. Boos failed to negotiate the curved roadway and traveled onto the soft right shoulder.  The Harley collided with a reflective roadway marker and the rider was ejected from the motorcycle.
Ms. Boos was wearing appropriate safety gear including a helmet, jacket and gloves.  Alcohol was not a factor in this collision.
"The rider of this motorcycle was fortunate to be wearing a helmet and appropriate motorcycle riding gear, which prevented further injuries.  This collision serves as a reminder to all of us of the rural nature of Mono County and the fact that travel or flight time to a trauma center takes hours, another reason to drive carefully, use seatbelt and motorcycle helmets" said R. D. Cohan, commander of the CHP's Bridgeport Area.