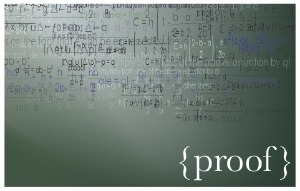 From Sierra Classic Theatre website:
It's time for some drama in Mammoth (other than whether we'll exceed Rusty's promised 24" of snow this month)!  After all these comedies, SCT is proud to go back to our roots by bringing a Classic to the stage.  It may not be "old," since "Proof" was originally produced in 2000, but that's not our only definition of classic.
For SCT, a great play is timeless.  It features honest, powerful and often haggard relationships, since real life is messy. confusing. it's certainly funny.  and it's kept warm with moments of true hope. "Proof" is suspenseful and crackling with wit, dissecting themes of sacrifice, identity and what it means to be truly sane.
** Why not spend an evening immersed in this Pulitzer Prize-winning play as the lethargic, sometimes bratty, Catherine is forced to face the reality that she may have inherited her brilliant father's genius … and his insanity.
Reviewed by the New York Times:
http://nymag.com/nymetro/arts/theater/reviews/3295/
By the Village Voice
http://www.villagevoice.com/2000-05-30/theater/math-about-you/1/
An interview with the author, David Auburn:
http://otium.uchicago.edu/articles/auburn_q+a.html
Presenting:
Catherine … played by Julia Runcie (Olivia in Twelfth Night; Belle in A Christmas Carol)
Robert … played by Rick Phelps (Big Daddy in A Cat On A Hot Tin Roof; Ghost of Christmas Present in A Christmas Carol)
Hal … played by Jody Ecklund (Sir Andrew Aguecheek in Twelfth Night; Dr. Caius in A Midsummer Night's Dream)
Claire … played by Morgan Lindsay (Viola in Twelfth Night)
Rick Phelps commented to Sierra Wave:
"Proof" is both witty and complex as a family struggles with the question of how much genius has the younger daughter inherited from her father – or, conversely, how much insanity.  In that sense it's just like any family gathering we've all experienced – particularly during the holidays.
"Proof" opens March 29th and continues with Thursday, Friday and Saturday 7 o'clock performances through April 14th.  Tickets are $15/each with $12 tickets for groups of 10 or more.  For reservations:
(760) 934-7498
[email protected]
Send an email or leave a phone message with the date and number of tickets needed.  The reservations are confirmed unless you receive a call back within 24 hours.