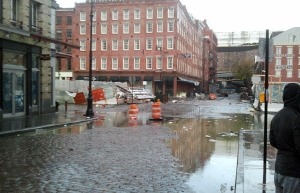 MAMMOTH LAKES NOON ROTARY CONTRIBUTES PROCEEDS OF RECENT POKER TOURNAMENT TO THE ROTARY FOUNDATION OF STATEN ISLAND
MAMMOTH LAKES, CA – At last week's Rotary meeting Poker Tournament Chair Mike Bornfeld proposed that the Club donate all of the $2,500 proceeds of the November 3rd Poker Tournament to Rotary Clubs in Staten Island, New York, that are working hard to recover from the devastation of superstorm Sandy.  Club membership unanimously endorsed this idea and asked that Mike identify the Rotary group on Staten Island best positioned to receive and effectively use the contribution.  After a little research and a few phone calls, Mike concluded that the Staten Island Rotary Foundation was clearly the best recipient of the funds.
A check for $2,500 was mailed on November 4.
"Rotary is all about helping people and placing 'service above self.'  Supporting a Staten Island Rotary group was the fastest and most efficient way to put the money to work help those impacted by the storm," Mike stated.
Joe Marchese, speaking for the Rotary Foundation of Staten Island was enthusiastic in his thanks:  "your generous donation will help many families begin to rebuild their lives. Thank you all in the Mammoth Lakes Rotary for helping us in Staten Island. I don't get out to Mammoth Lakes often, but you have some of the best skiing in the country and the next time I'm there I will be sure to come to your meeting and thank all of you personally."
For more information about membership in the Mammoth Lakes Noon Rotary, please visit our website at www.mammothlakesrotaryclub.org or call Rick Phelps at (760) 258-6704.
The Mammoth Lakes Noon Rotary Club is one of 34,000 Rotary Clubs worldwide that are part of Rotary International.  The mission of Rotary International, and its members clubs, is to provide service to others, promote integrity, and advance world understanding, goodwill, and peace through its fellowship of business, professional, and community leaders.