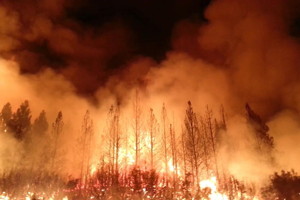 UPDATE: 9-6, 4PM
State Route 120 from Groveland to Yosemite will reopen today at noon.  However, Tioga Road remains closed from Crane Flat to White Wolf and visitors traveling from Mono County will not be able to continue into Yosemite Valley.
The YARTS September weekend service from Mono County into Yosemite Valley will be suspended until the road opens. YARTS has extended its Tuolumne Meadows route service and will be operating 2x a day, every weekend, for the remainder of September.  Please visit YARTS.com or 877-989-2787 for pick up times and locations.
As mentioned previously, we are encouraging visitors to explore some of the parks other options including Tuolumne Meadows, Lembert Dome, Tenaya Lake and Olmsted Point, that are all still accessible from Mono County.  Please feel free to watch and share this video we produced in collaboration with Yosemite National Park on "Trip Tips for Visiting Yosemite Like a Pro"http://youtu.be/HQmiCdcgM2w
Fall Colors are approaching and I wanted to share our updated version of the Fall Color Guide & Map.  The Map is attached in a PDF. along with a JPEG. Image of the cover.  Feel free to pass this on to your guests and link it to your website.
I will be sending out an update as soon as we get word on the da