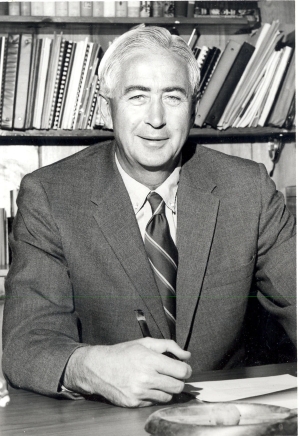 For some ten years back in the 60s and 70s, Herb London sat on the Inyo Board of Supervisors. He was a no nonsense, down to earth, straight talking man who was passionate about proper public planning and wilderness, and he was a story teller extraordinaire. London died Wednesday morning at his home in Ojai with his family and his dog Gus at his side. He was 92.
London was not a man of pretense. His son, Craig London of Bishop said his Dad was a very basic person. "He never bought anything just because if was new." London's Bishop home was simple and adequate. It looked like part of the land.
London sat on the Inyo Supervisors between 1966 and 1977. He was there when Inyo filed an environmental lawsuit against the City of Los Angeles over groundwater pumping. He opposed a road to Horseshoe Meadows. His son said London "didn't want uncontrolled growth."
John K. Smith, Inyo County's administrator for 30 years, said that London was "one of our better board members. He had a way of evaluating a problem and coming up with a real sensible conclusion." On the personal side, Smith and London made trips to Sacramento together. Smith said, "He was enjoyable to travel with. As a packer, he had a lot of stories. He was constantly entertaining."
London grew up around Glendale, graduated from UCLA with a degree in Agricultural Economics. He worked for American Airlines and was active in the Military Air Transport in World War II.
Herb and wife Marjorie and others bought Rock Creek Pack Station in 1947. They eventually bought out the other partners and operated the pack station for over 50 years. Craig London continues to run the business. Craig said his dad ran the stables at Stove Pipe Wells in the late 1940s. He packed miners, provided horses for the movies and ran the stables for George Putnam. According to Craig London, Herb was good frinds with Ranger Stan Jones and his wife Olive. Stan decided to sell his song, "Ghost Riders in the Sky" so Herb and Stan went to Hollywood to market what became a hit.
Family said London was responsible for creating the Millpond Recreation Center and fought for Wilderness that provided access to all types of people. He was one of the founders of Bishop Mule Days. London directed the 1950 census in Inyo, worked as an appraiser for the county from 1955 until he joined the Board in 1966. He was electd chairmanof the Board of Supervisors in 1970, marking the first time in over 30 years that a member from Bishop has headed the Board. IN 1966 Herb worked to close the five or so dumps throughout northern Inyo, settling on development of the current dump site. In 1969, Herb and District Attorney Frank Fowles and sheriff Merrill H. Curtis along with the rest of the Board of Supervisors dealt with the arrest of Charles Manis and 26 members of his cult.
Herb is survived by his wife Aleta, his son Craig and wife Carmen and his loyal Airedale, Gus. Memorial gatherings in both Ojai and Bishop will be scheduled at a later date. For those who want to remember Herb, a memorial fund for trail maintenance on the Mono Pass Trail will be established in conjunction with the Sierra National Forest; or donate to any animal-based charity.