At approximately 3:20PM yesterday afternoon during routine patrol, a traffic stop was initiated by an Inyo County Sheriff's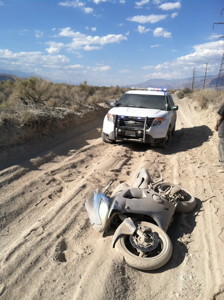 Deputy on the corner of Mt. Whitney and Mt. View in Lone Pine for a Honda street bike with an obstructed/unreadable license plate.  While the Deputy was exiting his vehicle to contact the driver, the driver put the motorcycle in gear and headed southbound on Mt. Whitney at a very high rate of speed.
After briefly speeding though several residential streets, the driver of the motorcycle headed east on Inyo Street which ultimately intersects with numerous dirt roads.  The driver of the motorcycle turned right on a dirt road that heads south-bound and eventually intersects with highway 136. About a half mile before he hit highway 136 the driver lost control of the motorcycle and crashed.
The driver was uninjured and attempted to flee on foot.  After a brief foot pursuit the Sheriff's Deputy arrested the suspect without further incident.  The suspect was identified as Joshua Evans, a 28 year old man from Lone Pine, CA. Evans is being held at the Inyo County Jail for reckless driving, felony evading, and driving without a motorcycle license.  Bail has been set at $20,000.