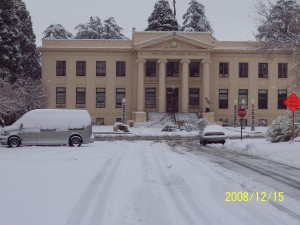 Snow falls on the Owens Valley floor maybe once or twice a winter. It's a definite rarity and cause of lots of picture taking and walking about in the silent, white blanket. Ted Shelander of Independence snapped some scenes in the Inyo County seat of Independence.
The stately courthouse sat nestled among snowy trees and newly plowed roads.
The small town saw about 5 or 6 inches of snow on Monday. Other southern Inyo areas experienced similar snowfall.
(Photo: Ted Shelander)