After a field trip to the Owens Dry Lake, members of the Inyo County Agricultural Advisory Board expressed concern about the amount of water used to control dust pollution.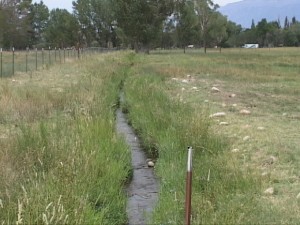 Agricultural Commissioner George Milovich said that the Advisory Board attended a field trip at the Dry Lake, hosted by LADWP. He said that the Board members talked with DWP engineers about better ways to mitigate the dust without use of "so much water." Milovich said the Advisory Board has concerns that use of water for the Dry Lake will cause cutbacks of water on ranch leases.
Milovich said that DWP has been required to provide water for "large reservoirs" on the Dry Lake bed. Air Pollution Control Director Ted Schade said that's not so. He said the air district did not require DWP to use water to control dust. They were given three alternatives – gravel, vegetation or shallow flooding. Most of the dust pollution has come under control with shallow flooding. "Once they selected a method," said Schade, "They had to use it." Schade did say there are no requirements for "large reservoirs."
Commissioner Milovich said that ranchers fear the drying up of the Owens Valley to control Dry Lake dust. The drying up of the Valley did occur over the past four decades as a result of widespread groundwater pumping. It is also true that this summer, at least four DWP ranch leases suffered reported water shortages.
Air Quality Director Schade said that DWP has chosen to use 60,000 acre feet of water to cover required dust control areas at the lake bed. This year, the City of LA plans to export 195,000 acre feet from the Eastern Sierra.
This issue will come up at the Inyo Supervisors meeting Tuesday in a workshop at 10:30 am.