Closing off dirt roads in the Eastern Sierra is a touchy subject for many local residents. When concrete barriers started to crop up on dirt road access to fishing on the north side of Crowley Lake recently popped up, some local anglers called to ask what was going on.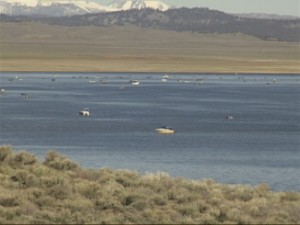 Fishing at Crowley may be shut down for the season, but after this first year of trying to keep the invasive Quagga mussel out of the lake, DWP officials say that the roads have been closed to keep people from launching boats at the unstaffed north end of the lake.
Before the opener in the spring, DWP received the word the Quagga mussel had been found in California waters. With zero interest in letting this rapidly reproducing invasive species gum up the works at Crowley, DWP worked to inspect every single boat that was launched into the reservoir.
According to DWP spokesman Chris Plakos, the only allowed boat access to Crowley is at the South Landing. He says that the Department and the Crowley Lake Fish Camp operator do the best we can do to stop the mussels, from getting into Crowley.
Over the summer, Fish Camp operator John Fredrickson had paid employees to staff a checkpoint on the north end of the lake. When that wrapped up for the season, DWP crews brought in concrete barriers to close off most road access to the lake.
A local angler who says that he has been fishing the north side spot known as the Green Banks, for 60 years was upset by the closed roads. The angler did say that despite the barriers, there was still one rough road to drive into the North Landing if the angler has a four wheel drive vehicle.
That appears to be by design. Vehicle access to the North Landing remains, Plakos explained, but it is too difficult for boats.
The usual roads into the North Landing area at Crowley will likely remain closed as long the Quagga mussel remains a threat.