Snow piled up nicely in the hills this winter. As of April 8th, LADWP measured the snowpack at just under the long term average. The DWP website shows this year's snowpack at 38.7 inches of water content when last checked in early April. Now, it's time for DWP to come out with a groundwater pumping plan in the Owens Valley.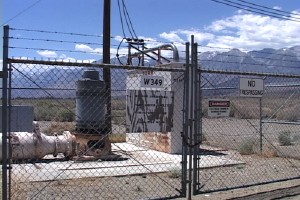 That plan actually uses run-off. The run-off forecast for this next year sits at 86% in both Inyo and Mono.
DWP has submitted an operations plan for this year to the Inyo County Water Department. This year, DWP proposes to pump 66,800 acre feet under the terms of the Interim Management Plan with Inyo. According to DWP, that plan says that "pumping in the Owens Valley will be managed with the goal of maintaining or raising average groundwater levels in each wellfield as compared to the average measured water levels in early April, 2007.
Earlier, Acting Water Director for Inyo, Bob Harrington, had said that monitoring wells show that this theory of pumping worked "pretty well." Harrington said there were some water table declines in Laws and in other areas of the Owens Valley, water tables went up or down less than one foot.
Inyo's Water Department will comment on DWP's plan, a Technical Group meeting will take place and then a final plan.