In the north end of the City of Bishop, semi-trucks, tourists with their cars and Rvs used to like to make pit stops at the big, empty parking lot where the old Kmart was located. That building has remained empty, which has left a huge void in the parking lot. In recent weeks, a van with a security guard showed up as did private property signs. Those who used the empty are mostly out of luck.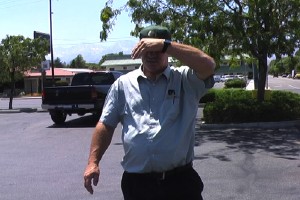 Bishop Police received some complaints that the security guard was ill-behaved and overbearing. One officer pointed out that people have parked in the vacant lot for many years, including customers of Taco Bell. Police said they understand that Vons holds the lease on the big building and took the position that they wanted trucks, Rvs and cars out of their lot. Although, they have conceded to allow Taco Bell customers to park in their spaces.
Seems a trucker may have knocked down a huge light pole, which may have led to the security measures. The parties involved are pointing at each other. The property management firm of Dolmer said Vons insisted on the security.
A Vons spokesperson, Marlon Denter, said that Dolmer suggested the security and Vons agreed, but has no direct involvement.
The move to clear out the big lot made a few things clear – Bishop may very well need a real truck stop. The big semis, with few choices of places to spend the night, now park along Highway 6 and Wye Rd., where they can walk into Bishop.
And, with no movement on the big ex-Kmart building, the vacant spaces stay vacant.