The long simmering struggle set forth years ago when the Village in Mammoth was built without adequate parking, threatens to boil over this summer.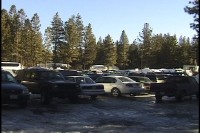 With a raise in rent that has sent tenants fleeing the Village, Mammoth Mountain plans to move their businesses to their own property in the Village. Now, with what appears to be a power play to force the parking issue to a head, Mammoth Mountain plans to close the parking lot across the street from the Village, further tightening the amount of available parking.
Pam Murphy, Senior Vice President at Mammoth Mountain says that the real reason the Mountain- owned parking will be closed is that the Village needs to resolve the parking problem.
CNL Lifestyle Company bought the Village at the height of the real estate boom in 2006. In those heady days the worry was that the surface parking across from the village would go away to make room for the Starwood 1 Hotel. Times have now changed
While the 1 Hotel has been put on the back burner, Murphy explained that the land across from the Village would not be a parking lot forever. Murphy says that the Village is vital to our success.
A plan to build a parking garage at Canyon and Hillside fell apart when the owner of the Village, currently CNL, Mammoth Mountain and the Town of Mammoth, failed to agree on how much each party should pay to get the multi-million dollar project built.
The closure of the parking lot is an attempt to force a resolution of the parking issue. Murphy said that now is the time to get people thinking about parking. The closure was timed for the summer season because it impacts the Village tenants less, she explained.
Murphy explained that it is in the best interest of the Village to get the conversation moving again. While the competing interests continue to fight it out over parking, the Mammoth Mountain owned surface parking is slated to be closed July 1.