By Deb Murphy
Owens Valley Unified School District board and superintendent/principal took their turn facing voters at the final election forum hosted by the Independence Civic Club last Wednesday. During the Q&A portion of the forum, photos of scary electrical panels, leaky windows and really ugly plumbing played out on a background screen.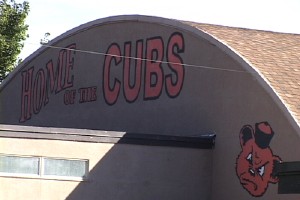 The district's Measure L on the June 5 ballot asks property owners for an increase of $60 per $100,000 property value to fund $4.8 million for infrastructure, safety and renovation costs. A facility assessment came up with $6.6 million in costs that included solar panels to reduce overhead. The board opted to scale back the project.
Board member Nate Reade provided background: the elementary school was built in 1947; the high school 20 years later. A $2.6 million bond financed some repairs in 2005 and while the buildings have been well-maintained, basic infrastructure needs attention.
The district has $450,000 in reserves, approximately 6-percent of its annual budget, but is also required to maintain reserves at 5-percent. Another pot, the same size, is earmarked for a new bus and other necessities. California has bond funds for school facilities but those grants require matching funds from school districts.
The one piece of what could be good news, according to Reade, the Los Angeles Department of Water and Power owns a disproportionate amount of land within the district and will end up paying 80-percent of the repayment costs.
The issue of district transfers from Lone Pine and Big Pine brought up questions—those families not in the district will not be financially impacted if Measure L passes. Superintendent/principal Dan Moore reminded the audience the district was in danger of closing its high school due to a low enrollment several years ago. The larger enrollment, up to 101 for K-12, allowed for a more vibrant education, he said.
What about the district's deferred maintenance funds? Those funds are generated by new builds, of which there is practically none in the Owens Valley.
How is the district planning for new buildings? The purpose of the bond, said Reade, is to avoid needing new buildings.
Maintenance on new construction? Maintenance costs will drop; the bond will not fund new construction.
Why weren't repairs done as they arose? The district's staff does maintenance but not the kinds of repairs required of electrical and plumbing systems or projects required by the Americans with Disabilities Act. The cost of luring contractors to independence for smaller projects would have been prohibitive.
The bond measure will be on the June 5 ballot; the deadline for registering to vote is May 21.