Next month will mark the 17th year that Mono County has worked with the LADWP on a finalized project to re-water the Owens Gorge. Unlike the now famous Lower Owens River, the Gorge project has lingered in years of talks shrouded in confidentiality. Officials will say that environmental documentation is underway.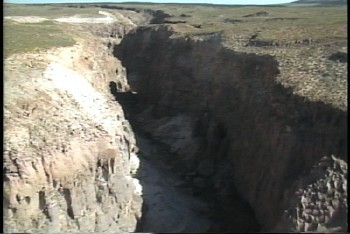 It was April 11, 1991 when then-District Attorney and now Judge Stan Eller filed a suit against DWP to force re-watering of the Gorge. Eller succeeded in bringing DWP to the table. Water has gone back down the very famous Gorge channel, dry since the 40s. Officials had earlier agreed on a flow regime, but the rest of the details have remained in talks, and there is no signed deal.
Unlike the Lower Owens River, there are no reporters with cameras shooting the Gorge flows. The Los Angeles Mayor has not ventured into the Gorge for photo ops.
Instead, current Mono County District Attorney George Boothe and special environmental prosecutor Will Richmond continue to negotiate with LADWP and the Department of Fish and Game.
The tight confidentiality will loosen somewhat during the environmental process that requires public participation. We'll keep you updated.