– Following is a press release from the Owens Valley Committee:
The Owens Valley Committee (OVC) has finally given up on the Owens Lake Planning Committee.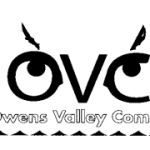 In the morning session of the Planning Committee meeting of May 15, 2013, DWP's Marty Adams said, "It's a lot to ask of anyone to continue to work with us…If somebody thinks it's not worthwhile to work with us I fully understand." Nina Weisman (OVCrepresentative to the Planning Committee) took Adams at his word. In the afternoon session, Weisman cited Adams' comments and stated that OVC had reached the point where it could no longer work with DWP through the Planning Committee. She proceeded to read a statement giving some background for OVC's resignation from the committee.
Wiesman commended DWP for its commitment to maintain bird habitat at Owens lake, but then stated OVC could not support DWP's "Owens Lake Master Project." She gave three reasons: 1) DWP's decision to make Owens Lake Master Project implementation contingent upon LA winning litigation limiting its responsibility for dust mitigation to the existing 45 square mile area; 2) DWP's decision to include new groundwater pumping in the project; and 3) DWP's refusal to commit to using any water saved in Owens Valley.
Weisman then stated that DWP had improperly cited Planning Committee negotiations in webbased attacks on Great Basin Air Pollution Control District. She said OVC had asked that these attacks be removed from the internet, but that DWP had not done so. As a result, Weisman concluded that the Planning Committee had been captured by the DWP Public Relations department, and that OVC would no longer be able to be a member of or have its name associated with the Planning Committee.
According to the Master Plan website, the Owens Lake Planning Committee was convened by DWP in 2010 to "identify broadly supported goals to enhance the Owens lakebed," with a charter specifying a consensus-based decision-making process. OVC was a member from the beginning. On March 26, 2013, DWP sent a letter to Planning Committee members stating that it had decided to unilaterally develop a plan for Owens Lake, thus abandoning its own consensus-based process. In April 2013, DWP unveiled its "Owens Lake Master Project" to replace the "Owens Lake Master Plan" previously under collaborative development by the Planning Committee.
After the meeting Weisman noted that the Planning Committee no longer has any power and has been reduced to an advisory role. She added that OVC does not want to be window dressing for DWP's efforts to establish a new wellfield in the name of dust mitigation at Owens Lake. OVC is committed to the health and prosperity of the entire valley and would be happy to join DWP and other stakeholders in good faith efforts to unify and appropriately manage the entire watershed, including Owens Lake and upstream portions of Owens Valley.
Owens Valley Committee is a not-for-profit, tax-exempt organization under Section 501(c)(3) of the Internal Revenue Code and Section 23701d of the California Revenue and Taxation Code. No goods or services are provided in exchange for contributions, and donations are fully tax-deductible.
We watch the water
PO Box 77, Bishop, CA 93515 ● www.ovcweb.org ● [email protected]