Did the council make the Bell Shaped Parcel worthless or more valuable with their decision to zone the land Open Space?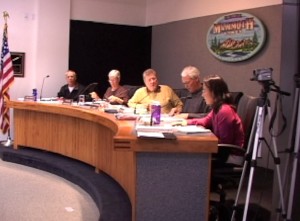 At their most recent meeting, the Mammoth Town Council finalized a plan to change the zoning on the piece of land known as the Bell-Shaped Parcel to Open Space from Resort.
The Bell Shaped Parcel is a roughly 17 acre piece of town-owned land bordered by Meridian and Minaret. While the name is plain, the Bell-Shaped Parcel was one controversial piece of the puzzle during the years of meetings that produced the 2007 Town General Plan.
Whether to build on the property, sell it, or turn it into permanent park space has been at the core of the controversy. When the General Plan was finalized, the plan was to leave the land zoned Resort, but to look for money to purchase a conservation easement for the property. In this way the town would get some money for the land, but also be able to keep it Open Space.
Council members Wendy Sugimura and Neil McCarroll worked to find someone willing to purchase a conservation easement, but were not successful. In April the council decided to move forward with a plan to zone the land as Open Space.
Councilman Skip Harvey said that the land was a valuable asset as a place for recreation and possibly an outdoor venue for entertainment.
John Eastman, who is up for re-election, did not agree with the re-zoning plan. Eastman explained that the land was worth $10-15 million dollars and would be worth close to nothing if the council zoned it Open Space. While he felt the town would not lose the ongoing legal battle over the Airport lawsuit, Eastman explained that it was financially reckless, to reduce the value of the land when facing a potential judgment against the town.
While McCarroll and Sugimura wanted to get this zoning change done before their terms end, Eastman said, There is absolutely no urgency.
In the end, Eastman was out voted 4-1, and the Bell Shaped parcel was approved for the zoning change to Open Space.